Expression Web 4.0 Add-ins - Installing Expression Web 4 Add-ins
If you are using an earlier version of Expression Web, EW version 4 SP2a is now available FREE so there is no reason not to upgrade.
A new extensibility model will allow you to create add-ins much more easily using html, css, javascript and a manifest file (xml). There are quite a few new add-ins for Expression Web 4 that will also work in earlier versions of the program.
Easily create an Add-in for Expression Web 4 with the Add-in Builder by Anna Ulrich
Creating an Expression Web Add-in by Jim Cheshire
Jim Cheshire, the author of Microsoft Expression Web 4 In Depth, has included a complete section (several chapters) on building add-ins for Expression Web 4 using the new JavaScript add-in model. When you register the book at informIT you get access to a PDF copy of the book which contains the bonus material. The bonus material will be available as a separate EBook in early February as a stand-alone eBook entitled Creating Microsoft Expression Web 4 Add-ins.
This is the only complete reference for developing add-ins in Expression Web 4 currently available. Not only do these chapters walk you through the creation of an add-in, but they also contain valuable reference information such as the internal IDs of each and every menu item and panel in Expression Web 4 so that you can place menu items and panels exactly where you want them. It also includes a complete reference on the entire add-in object model and API, complete with example code and tips. These chapters are available as a stand-alone eBook entitled Creating Add-ins for Microsoft Expression Web 4.
What is an Expression Web Add-in?
An Expression Web Add-in, is an external software package that provides additional or enhanced functionality within Expression Web 4.
How to Install Add-ins?
NOTE: Many of the commercial add-ins come as an executable file. Once you have downloaded the add-in, double click the .exe file and follow the instructions for that particular add-in.
Step 1: Launch Expression Web 4.0. Go to 'Tools' on the menu and select 'Add-Ins.'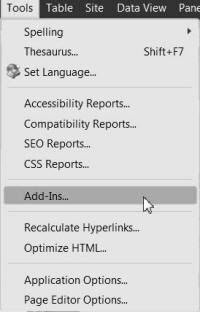 Step 2: In the 'Manage Add-ins' dialog box click the 'Install' button.
NOTE: If this is the first Add-in you have installed, the list will not yet be populated.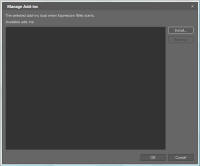 Step 3: Browse to the location on your computer where you downloaded the Add-in. Click 'Open.' The add-in will end with the file extension .xadd. The add-in will be installed.
Step 4: Once installed, you will be asked if you want to enable the add-in. The screen will give you all of the information on the particular add-in you are installing. Click 'Yes.'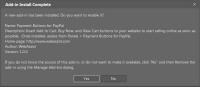 Step 5: If you once again click 'Tools' on the menu bar and select 'Add-ins' you will see the list has now been populated with your first add-in.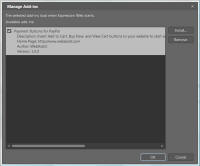 Using the Expression Web Add-ins
Step 6: Depending on the add-ins you have installed, they will be available at a number of locations. Go to 'Panels' and select the Add-in. In this case Payment Buttons for PayPal.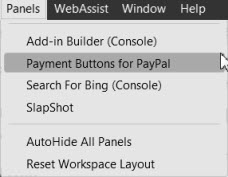 Go to 'Insert' and select the Add-in.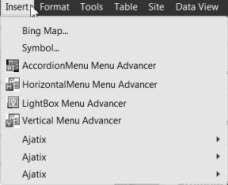 It is as simple as that.
Expression Web Free Add-ins
FPCleaner
Steve Easton's FPCleaner supports FrontPage (2000-2003), Expression Web (all versions) as well as SharePoint Designer 2007. Best of all this program is FREE. It is one of the programs I have consistently recommended if you have problems with the FrontPage and/or Expression Web as it cleans up the clutter of files that are left behind. It does not require installation and runs from your desktop. This is one of the essential tools in my arsenal of tools for web design work.
FPCleaner supports FrontPage 2000-2003, Expression Web 1.0 and 2.0, and Sharepoint Designer 2007
FPCleaner Expression Web 3.0 supports Expression Web 3.0.
FP Cleaner for Expression Web 4.0 supports Expression Web 4.0.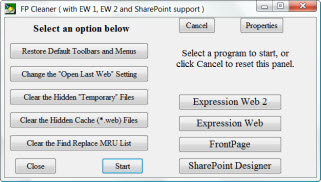 Restore Default Toolbars and Menus
Change the Open Last Web Setting
Clear the Hidden Temporary Files
Clear the Hidden Cache (*.web) Files
Clear the Find Replace MRU List
Start the Program
Contact Form Generator for Expression Web
ASP Contact Form Generator is a FREE, online tool that will generate an email contact form, including the back-end VB ASP.NET code, HTML form fields, field validators, a customizable confirmation message, a basic security test to minimize form SPAM, and more. No programming knowledge is required.
The form that this tool generates takes full advantage of ASP.NET 2.0 (the same technology required for Master Pages). The generated form and script must be placed in an ASP.NET page (.aspx) and deployed to a windows web server that supports ASP.NET 2.0 (not just ASP or ASP.NET or ASP.NET 1.1, but ASP.NET 2.0). FrontPage Server Extensions are NOT required.
The Contact Form Generator is not an add-in but a separate tool but works with all current versions of Expression Web.
The add-ins listed below are available FREE for Expression Web 4:
Expression Web 4.0 Commercial Add-ins
The add-ins made by both Ajatix and CSSMenuTools work with all versions of Expression Web as well as FrontPage.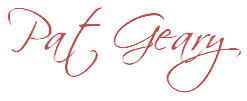 Copyright © 2010 Pat Geary of Expression Web Tutorials and Templates, All Rights Reserved
Written June 2010 Revised July 2012
Revised April 2013