Create New Website in Expression Web 4.0
These instructions should also work for Expression Web version 3.0. If you are using an earlier version of EW (1.0 or 2.0) you can refer to this Create a Website tutorial.
NOTE: There are some major changes in the User Interface of Expression Web 3.0 and 4.0 and the earlier versions. Many of the items to manage your site are now located on the Site Menu list. View Screenshot
Now that you have Expression Web 4.0 installed and have set up the program following the Setting Up Expression Web tutorials, you are ready to start working on your new web. If you have already created a website you can open it in Expression Web. There is no need to import the site. Be sure you have a good backup just in case.
WARNING: If your current website is using the Shared Borders feature of FrontPage DO NOT OPEN THE SITE in Expression Web 4.0 without first removing the shared borders. WHY? Because Expression Web corrupts the feature and replicates the shared borders. For more details see How Expression Web 4 treats Shared Borders.
Or you can create a new website and start from scratch. NOTE: Screen shots may look different from what you see. I am running Expression Web 4.0 on a computer with Windows Vista Ultimate installed.
Create a One Page Website
Step 1: Start Expression Web > Site > New Site OR if you want to use the keyboard Ctrl + Shift + N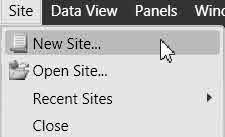 Fig 1: New Site
Expression Web 1.0 and 2.0 Users: File > New > Web Site.
Step 2: In the dialog box
Choose General > One Page Web Site.
Under specify location of the new website, put your cursor in the location box and delete from the right end up to the slash after MY WEB SITES\ or you can browse to the location where you want the new web created. Type in the name of your website — use a hyphen rather than a underscore. I use the actual name of my domain as the folder name, without the extension. Example: expression-web-tutorials.
Tick the box if you want this site added to your Manage Sites Listing and specify the Name of your site. The default is the name you type in the location box, BUT you can change it to include CAPS and spaces, i.e., Expression Web Tutorials. NOTE: This feature is not available in earlier versions of EW.
Click OK.
Step 3: The new website will be created with one page named default.htm/l. I immediately rename it to index.html by right clicking on the file > Rename. Make sure you check with your hosting company as to what your Home Page should be named.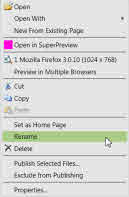 Fig 3: Rename
Step 4: Use this for you new web. At the same time, I create a new folder for images.
Either click the new folder icon

OR Right Click > New > Folder > type images.

The default doctype used in Expression Web is:
<!DOCTYPE html PUBLIC "-//W3C//DTD XHTML 1.0 Transitional//EN" "http://www.w3.org/TR/xhtml1/DTD/xhtml1-transitional.dtd"> <html xmlns="http://www.w3.org/1999/xhtml">
You can change that in Tools > Page Editor Options > Authoring.
Now that you have created your website, you can either open the default.html, or index.html if you renamed it, and begin creating a page that will serve as the template for your site.
If you would like a starting point for designing your new website, please feel free to download and use one of these FREE CSS based layout templates available from Genealogy Web Creations or import one of the Personal Web Packages from Expression Web Tutorials and Templates.
You might also consider downloading and installing one or all of the FREE Expression Web Site Template sets. There are four different layout sets available for both new users and more advanced users. Some of the layouts are even mobile friendly.
NEXT STEP: Create a Blank Web Page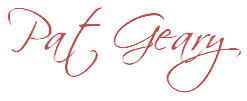 Copyright © 2009 Pat Geary of Expression Web Tutorials and Templates, All Rights Reserved
Revised July 2010
Revised December 2012
Revised April 2013