How to create a Personal Web Package
A Personal Web Package is a process in Expression Web where you can export or "package" a website with all of accompanying files and folders so that someone else can import the package into their website. You can include an entire site or only parts of a site. You get to pick and choose what to include. Each of my FREE Expression Web templates is offered as a personal web package.
To create your own personal web package, follow these instructions. You can click on any of the thumbnails for a larger image.
Expression Web All Versions
Step 1: Open the website you want to export in Expression Web. Make sure that you can see your folder list.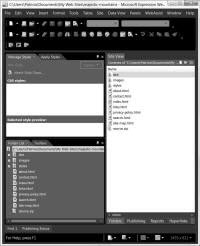 Step 2: Expression Web 3.0 and 4.0 - Select 'Site' from the menu and choose 'Export to Web Package.'
Expression Web 1.0 or 2.0, then select 'File" from the menu and choose 'Export' > 'Personal Web Package.'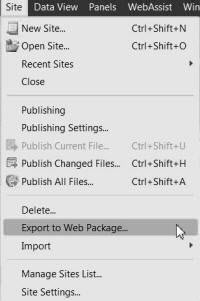 Step 3: In the 'Export Web Package' dialog box, select each of the files that you want to include in the export from the 'Files in site' panel on the left-hand side and 'Add' them to the 'Files in package' panel on the right hand side. You can select all of the files at one time or one at a time.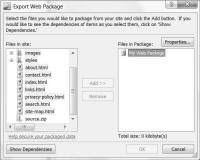 If you would like to see the dependencies of the files as you select them, click the 'Show Dependencies' button.
Click the 'Properties' button to edit the Title, Description, Author, and Company of your package.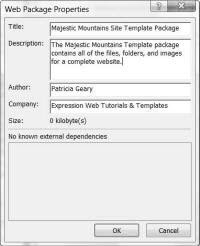 Click 'OK' when you have finished selecting your files. You may receive a message to the effect "You have added name of folder to your web package. Would you like to include the contents of name of folder to your web package." Click 'Yes' if you want the contents of the folder inlcuded.
Step 4: In the 'File Save' dialog box enter a location and name for your export package. Click the 'Save' button and a single file with a .fwp extension will be created with all the files/folders you selected.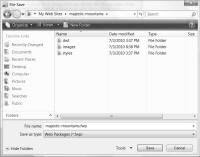 Once you have created or downloaded a personal web package file, you can import the files into a new or existing web site. Detailed instructions for using the personal web package.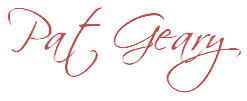 Copyright © 2010 Pat Geary of Expression Web Tutorials and Templates, All Rights Reserved
Written July 2010