How to back up your local website on your hard drive
This question frequently comes up on various mailing lists. "How can I publish my website on my hard drive to a backup location on my hard drive?" Unlike Windows Explorer, there is no Recycle Bin in Expression Web. If you inadvertently delete your website or pages within the site, you are going to be in a Restore situation.
Back up your website using Expression Web 4.0 and 3.0
Step 1: Open up the site you wish to back up in Expression Web.
Step 2: Recalculate Hyperlinks: Tools > Recalculate Hyperlinks.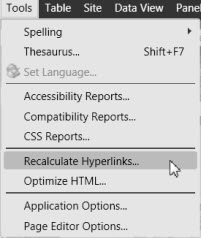 Fig 1: Recalculate Hyperlinks
Step 3: Choose Site > Publishing Settings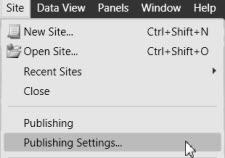 Fig 2: Site > Publishing Settings Menu
You can also select 'Publishing' > 'Publishing Settings' (upper right on Site View).
Step 4: In the 'Site Settings' dialog box, click the 'Publishing' tab. The current publishing destination will show as the default, if you have already published this site to your web hosting. Click 'Add.'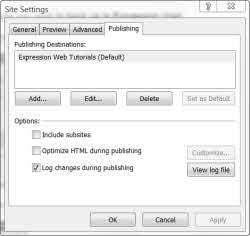 Fig 3: Site Settings > Publishing Tab (Click for larger image).
Step 5: Choose 'File System' from the 'Connection Type' dropdown menu.
Step 6: In the 'Connection Settings' dialog box, do the following:
"Name" - Type the name of the site i.e., EW Tutorials BACKUP.
"Location" — type the folder name where you want the backup published — for example, C:\Users\Patricia Geary\Documents\My Web Sites\ew-tut-backup OR browse to the empty web you created beforehand in preparation for backing up.
Click 'Add.'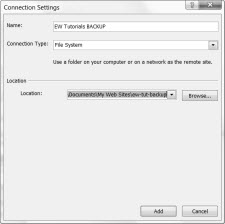 Fig 4: Connection Settings (Click for larger image)
Step 7: Select the newly created backup location from the Connect To drop down menu


Fig 5: View Connect To Bar (click thumbnail for larger image)
If the folder does not currently exist, you will be prompted to create it. Click 'Yes' and the web will be created for you.
Once connected, click the 'View' dropdown and select one of the following:
Selecting either of the 'All Files' views will publish all files.
Selecting the 'Changed Files' view will publish just the changed files.
Step 8: You will see your website (on your computer) in the left window, and the newly created backup website (also on your computer) will be on the right hand side. It will be empty if this is the first time you are backing up your site.

Fig 6: Publishing Window (Click for larger image)
Depending on what you are trying to do:
Choose from the View dropdown which files you want to publish. There are three arrows between the windows. If you want to move just a file or two, you can highlight it, then click the arrow to copy just that file or files.
NOTE: If this is the first time you have published your backup, only the top arrow will be available to you.


Fig 7: Publishing
The top arrow 'Publish files to the destination site' is used most often. It publishes your choice of files from your computer to your folder you have previously designated. Keyboard shortcut is Ctrl + Alt + P.
The middle arrow 'Get files from the destination site' is used if you happen to lose your site on your computer or damage the files. You could use this to download the site or a file from server to your own computer. Keyboard shortcut is Ctrl + Alt + G.
The bottom double arrows 'Synchronize files,' compares the two sites and moves the data back and forth until they match. Use this with caution. Keyboard shortcut is Ctrl + Alt + Y.
Once you start the publishing process, you will see your files being transferred. When complete you will get a message that your file is finished uploading.

Fig 8 : Successful Publish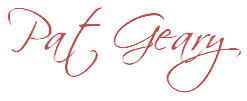 Copyright © December 2009 Pat Geary of Expression Web Tutorials and Templates, All Rights Reserved