Add-on Domains at BlueHost
BlueHost allows you to host as many domains and/or subdomains as you want with one hosting account. Each account can point to a directory under your public_html folder yet the url will show as the actual domain name and if you do a header check you will NOT see any redirects being used.
Example: This site is an addon domain with BlueHost that points to the directory public_html/expression-web-tutorials. The header check returns the following:
#1 Server Response: http://www.expression-web-tutorials.com/
HTTP Status Code: HTTP/1.1 200 OK
Date: Sun, 25 Apr 2010 13:47:00 GMT
Server: Apache/2.2.14 (Unix) mod_ssl/2.2.14 OpenSSL/0.9.8l DAV/2 mod_auth_passthrough/2.1 FrontPage/5.0.2.2635
Accept-Ranges: bytes
Content-Length: 21398
Content-Type: text/html
By default, your main domain, the one you opened the account with, is under the public_html directory. You can choose to have that main domain point to its own directory by following How to make a subfolder the main folder for your BlueHost main domain.
How to setup an add-on domain in my hosting account?
Step 1: Login to your Bluehost cPanel
Step 2: Click on the "Domain" tab at the top of the screen.

Step 3: Click "Addon Domains"
Step 4: Tick "Use a domain that is not already associated with your account."
Follow the instructions given on that page by doing the following:

View Screenshot
Step 5: Enter the 'domain name' my-domain.com. You will see a verifying domain message.
You will then need to verify the domain by doing one of the following:
Change the nameservers to point to the BlueHost nameservers.
You may also set the DNS "A" record for the domain to point to the ip address given
You may also verify ownership of the domain by creating a page at domain with the specified name
You may also verify ownership of the domain by entering the EPP authorization code, which must be obtained from your current registrar. The EPP code will NOT be used to transfer the domain.
Step 6: Tick "Addon domain"
Step 7: Select or create the directory you want the add-on domain to point to
Step 8: Click the "Add Domain" button at the bottom of the page to assign the domain.
Once complete you should see the domain is listed in the domain manager tab.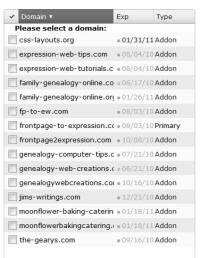 NOTE: The subdomain that is also created in no way affects how the search engines see that domain. You still reach it by typing or linking to my-doamin.com.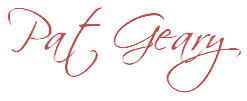 Copyright © 2010 Pat Geary of Expression Web Tutorials & Templates All Rights Reserved
Tutorial Added April 25, 2010