Adding Insert Include Code into Code Snippets
Select the Include code below and paste to a notepad file then select and copy.
<!--webbot bot="Include" U-Include="|addFilename|" TAG="BODY" -->
Go to the Tools Menu > Page Editor Options > Code Snippets Tab.
Click Add > insert the Include Code you copied from above by right clicking and pressing Paste in the Text: Pane area.
In the Keyword field insert a code word or number. I used ( Design Time Include). In the Description field type the snippet description ( Insert Include Page).
Click OK and the Snippet will then be listed with your other Code Snippets.

VIEW SCREENSHOT - Code Snippets Tab in Page Editor Options
Using Code Snippet
In order to use your Code Snippet you MUST be in Code View
You must position your cursor in the Code View location you wish your Include to appear. NOTE: You can also work in Split View and position your cursor in the Design View portion of your screen (bottom panel) where you want the include to appear. Your cursor will be highlighted in the Code View panel (top panel).


VIEW SCREENSHOT - Cursor Placement in Split View
Use keyboard to access Code Snippets List
After positioning your cursor in Code View > press Control + Enter on the keyboard and the Code Snippet List will appear.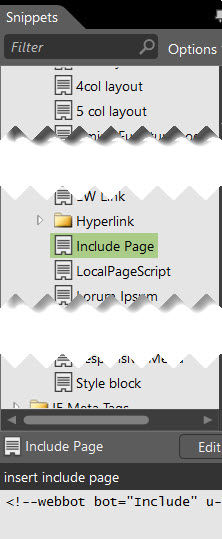 Figure 1: Code Snippet List
Select the snippet you want to use by scrolling down or using the keyboard. Select the keyword letter or number for the snippet, in my case ( D) which will highlight the snippet. Press Enter or Tab to insert it or you can double click.
Click the Design View section of Split View and the Include path appears.


Figure 2: Include Page Path
If you hover your Mouse over the Include Page path and you will see the 'Folder in the hand' cursor which tells you that this is an Include. Double click and the Include Page Properties Dialog box will appear. Browse to the location of your include file and the file name will appear.


Figure 3. Include Page Properties