Installing Expression Web 4
These instructions are for installing the RETAIL versions of either Expression Studio Ultimate or Expression Web Professional. I've included notes on installing the free version.
If you are installing the free version, download Expression Web 4 Free Version.
Click on the installation file Web_Trial_en.exe (ignore the fact that it says Trial) and follow the instructions. There is no need to activate EW once you have installed it. You may install the free version on as many machines as you want.
View Screenshot of About EW4 for free version.
Licensing
Expression Web 4 can be licensed and activated on, at most, two systems, e.g., a laptop and a desktop. If you need to reinstall on one of those systems, e.g., because you reinstalled Windows, you should be able to reinstall Expression Web 4 and reactivate at that time. The free version can be installed on as many machines as you want.
Note: Screenshots were done installing Expression Studio Ultimate on a Windows Vista machine.
Installation
NOTE: Before you can install Expression Studio (either version), you will need to have .NET Framework 4.0 installed. You may want to go ahead and download and install it as your computer will need a restart after installation. If you do not install it first, then you will be prompted to do so BEFORE you can continue with the Studio installation.

Step 1: Once you have downloaded the program file, double click on the file to start the installation. You will receive the normal User Account Control warning box. Click Yes. You will see the screen shown below as the install process starts.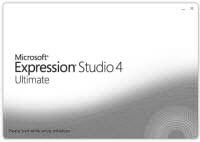 NOTE: If your are installing a retail version of Expression Studio 4 Web Professional OR Expression Studio 4 Ultimate, you will be prompted at this point to enter your Product Code. You will NOT receive this prompt if you are installing the trial version. You will not receive this prompt if you are installing the free version.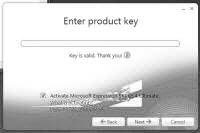 Step 2: Accept the license agreement.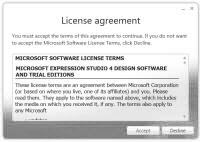 Step 3: Choose whether you wish to join the Customer Experience Improvement Program.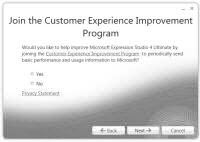 Step 4: Select which of the programs you wish to install.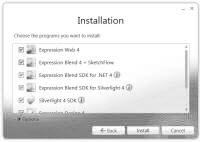 Step 5: Once all of the program you have selected are installed, you will see the finish setup screen. You can either view the Release Notes of click Finish.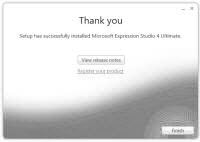 Activating Expression Studio
Step 6: Launch Expression Web 4.0. Click on the 'Help' menu and choose 'Activate Product.' You can then check 'About Microsoft Expression Web' from the Help menu and you should see that you now have a fully licensed copy. This step is NOT necessary if you are installing the free version.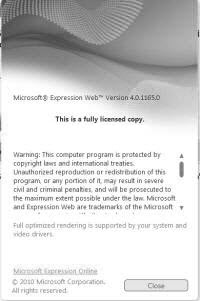 Important: If you took advantage of the free upgrade from version 3 to version 4, save your copy of version 3! If you need to reinstall Expression Web 4, after you have reformatted your computer, for example, you will need to first install and license version 3, then install version 4.
If you have not reformatted your computer but only need to reinstall the program, you should not have any problem, as the version 3 license will still be in the Windows license store even if you had previously uninstalled version 3.
Expression Web 4 DOES NOT REPLACE previously installed version of the application on your program. It will be installed alongside of the versions you currently have. All will be accessible from your Start > Programs > Microsoft Expression menu. View Screenshot
Once you have installed Expression Web 4, make sure you also install both Service Pack 1 (SP1) and Service Pack 2 (SP2) for Expression Web 4.
IMPORTANT: If you have any problems installing Expression Web, please refer to Forum FAQ and Guidelines - Start Here and scroll down to 'Installation FAQs' and 'More Microsoft Resources for Installation Problems'
If you choose to ask a question in the forum, please remember that the folks who answer the majority of the questions are NOT employees of Microsoft. They are volunteers and users just like you or I.
Next Step: Setting Up Expression Web 4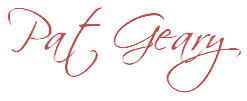 Copyright © 2010 Pat Geary of Expression Web Tutorials and Templates, All Rights Reserved
Written June 2010
Revised August 2011
Revised December 2012