Expression Web eBooks
An e-book (also: eBook, ebook) is an electronic (or digital) version of a book. Each of these Expression Web eBooks is written to help you get the most out of using Expression Web as you Some of the eBooks are FREE for download and I have indicated which those are. Many of them were written by my good friend Tina Clarke, another Microsoft MVP.
Expression Web 4.0 Tutorials 2nd Edition by Pat Geary (Revised February 2013)
NEW

Expression Web 4 Tutorials from Install to Publish and More. I'll take you through installing Expression Studio Web Professional (the official name) and setting up the program, to creating your first site and page right through to publishing. At the end I throw in some extras. The tutorials in this book will also work with Expression Web 3.0. If you are still using an earlier version of Expression Web, now is the time to upgrade as the software is now available for FREE>
---
Migrating from FrontPage to Expression Web

Feeling frustrated about how to migrate from FrontPage to Expression Web? Our eBook will help you achieve your dream of a easy maintenance, trouble free, standards compliant website. It might seem easy but when it comes down to it, an experienced helping hand, to guide you through the the learning curve will enable you to start off The Right Way. Microsoft MVPs - Expression Web Pat Geary and Tina Clarke are the authors of this brand new Migrating from FrontPage to Expression Web eBook. Fourteen free Dynamic Web Templates (DWT's) PLUS a bundle of Expression Web Queries are also included with your ebook purchase. You also have access to a companion website with tips and tutorials on how to work with the DWT's. Price: $32. Version 4.0.2
---

Setting up Expression Web correctly from the beginning will save you a lot of time, be sure to download this FREE ebook and start off the Right Way. This eBook is FREE! Work through the following selections to set up Expression Web and enjoy working correctly from the start. Page Editor Options - General Tab Page Editor Options - CSS Tab Page Editor Options - Code Formatting Tab Page Editor Options - IntelliSense Tab Optimize HTML
---

By Setting up Expression Web you set the parameters by which you design your web sites, taking the time now, saves you grief in the future. Expression Web setup the right way can enhance your design experience and not only help guide you in the use of CSS but warn you of html errors as you create your template design and content. We have written this new Setting up eBook about Expression Web 2.0 as there are new features and settings that you need to be aware of. One in particular might have you confused as to what is happening unless you un-tick a certain selection set by default. This eBook is F REE!
---

The defaults in Expression Web 3.0 are starting to resemble Tina's recommendations. However there are new things you need to be aware of if you have used the previous versions. It is also a good idea to become familiar with the settings and why you should be using them if you have not used Expression Web before.
---

There have been some subtle changes and its well worth reading the ebook to gain a in-depth knowledge of the settings that will affect how you work with Expression Web. This goes a long way to providing the basis of starting your design experience with as little fuss as possible.
---

This essential FREE Expression Web DWT EBook shows you all the tips and tricks you need to know to ensure a trouble free implementation of your Expression Web Dynamic Web Templates. For instance did you know you need to put editables around your metas to ensure they are not overwritten? See this free eBook by Tina Clarke - Microsoft MVP - Expression Web to help guide you through step by step the Right Way.
---

26 original Expression Web Tips Ebook brought to you in this first volume. Available now for the low launch price of $7. These EW Tips will help you design and create your web sites. Learn the tricks of the trade now.
---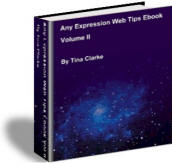 26 brand new Expression Web Tips in this Expression Web Tips Vol ll Ebook is written and published by Tina Clarke Microsoft MVP - FrontPage alongside selected guest authors This Ebook comes with the bonus Expression Web Query "Find and Replace any border size" with Tip 49.
NOTE: You can also buy both Any Expression Web Tips Ebooks in a bundle for $13.