Christmas Templates
from Expression Web Tutorials & Templates
If you are using Firefox and click the Download button, you will see a bunch of gibberish. Instead, right click the Download button and save the file to your computer.
This set of three one column dynamic web templates is our Christmas gift to you our followers. The One Column Templates are based on Eric Meyer's CSS Sculptor for Expression Web which is no longer available. However this has no effect on how the templates work and can help in the process of learning CSS. Each is a one column fluid layout which will resize to 800x600 with no horizontal scroll. A maximum width has been set for each one. You can read details on each of the three templates by clicking on the thumbnail or the menu selection at the top.
The template footer makes use of a script to update the copyright date each year. The three templates are available as a Personal Web Package. You must have Expression Web (any version) installed to use them.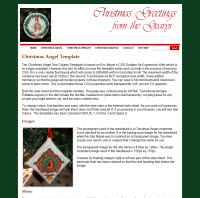 Christmas Angel Template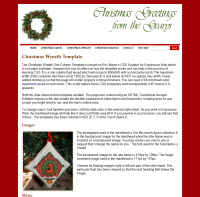 Christmas Wreath Template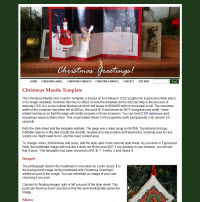 Christmas Mantle Template
License Information
All of the free Dynamic Web Template packages provided on this website are licensed under a Creative Commons Attribution License. They are free to use for both commercial and noncommercial purposes provided you link back to Expression Web Tutorials & Templates.
If you are a web designer/developer and want to use these for clients you MAY NOT claim them as your own design either through a link on the site or a copyright meta. You may put: Designed by Pat Geary of Expression Web Tutorials & Templates and edited by 'your name' and 'your link'. You may add, tweak or change them in anyway you wish. You may NOT include any of the Site Templates in any packages for resale or distribution or download without full written permission of Pat Geary of Expression Web Tutorials & Templates.
Contact Form
If you are interested in adding a contact form to any of these templates packages, you can check out my Sample Contact Form package. The package (in zipped format) contains a contact form that you can edit with detailed instructions on what you need to edit to make it work on YOUR site. The form makes use of James Huggins' email form script which does require support for php5 on your hosting site.
Additional Template Resources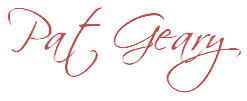 Merry Christmas from Expression Web Tutorials & Templates
December 2009