Expression Web Resources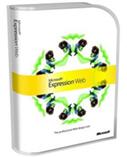 Listed below are various resource sites to get you started with using Expression Web and to help you use it productively. You can watch video tutorials and visit forums where you can ask questions about Expression Web. If you are aware of any other resource sites or have comments on any of those listed, please let us know by contacting Pat Geary.
Expression Web Tutorials, Blogs and Websites
Expression Web Commercial Training Sites
Migrating from FrontPage to Expression Web Feeling frustrated about how to migrate from FrontPage to Expression Web? Our eBook will help you achieve your dream of a easy maintenance, trouble free, standards compliant website. It might seem easy but when it comes down to it, an experienced helping hand, to guide you through the the learning curve will enable you to start off The Right Way. Microsoft MVPs - Expression Web Pat Geary and Tina Clarke are the authors of this newly revised Migration from FrontPage to Expression Web eBook. Also included are free templates and Expression Queries.
Total Training - If you have already watched the training inside the Microsoft Expression Web product box, you have a great head-start. Get 8 more hours of new videos with self-guided lessons from Total Training that will open your eyes to the numerous capabilities of Microsoft Expression Web. Whether you are creating your very first web site or looking for advanced tips on how to create designs with Cascading Style Sheets (CSS) you will find your solution in this library of comprehensive video tutorials.
Expression Web Newsgroups & Mail Lists
Expression Web Books and Videos
If you look in Amazon, Barnes & Noble or any of the online book sellers you will see many books on the various versions of Expression Web. My favorite authors include Jim Cheshire, Chris Leeds, and Morten Rand-Hendriksen all have books available on Expression Web 4 as well as earlier versions.
Check out our recommendations for Expression Web Books and Videos.
Check out our recommendations for Expression Web EBooks.