Publishing Your Web Site with Expression Web 1.0 or 2.0
Publishing with Expression Web 4.0
Now that you have finished designing your site you will need to publish it for the world to see. The screenshots for this tutorial were done with a system running Windows Vista and Expression Web 2.0. Yours may look slightly different. Expression Web supports several different publishing scenarios.
Step 1: Open the website on your computer in Expression Web. Make sure you have saved all of your pages. You will receive a warning if you have not once you start the publishing process.
Step 2: If you didn't set the options for your site before developing your site, check your settings before attempting to upload/publish. FREE Setting up Expression Web Ebook by Tina Clarke.
Step 3: Recalculate Hyperlinks Site > Recalculate Hyperlinks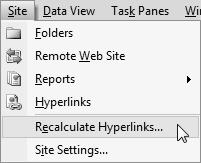 Step 4: Choose File > Publish Site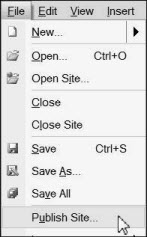 Step 5: If the remote website dialogue box does not pop up, click the remote website button in the upper right hand side of the window.

There are several things to do on the dialogue box that pops up.
Choose the "Remote Web Site" tab.
Under Remote Web server type, select FrontPage Server Extensions, WebDav, FTP, or File System.
"Remote Web Site Location" - type the Internet address, including the protocol, of the remote website that you want to publish folders and files to — for example, ftp://www.your-domain.com OR http://www.your-domain.com
"FTP Directory" the folder/directory on the server you are publishing the files to

NOTE: In the case of 1and1 Linux servers it would be whichever directory you have pointed that domain to.

NOTE: In the case of BlueHost, you may enter your domain name or the IP address of your server. Enter your ftp directory.
If this is your main domain (the domain you opened your account with) enter public_html.
If you are publishing to an addon domain you would type public_html/addon-domain-directory.
If you followed the tutorial for How to make a subfolder the main folder for your BlueHost main domain your ftp directory will be public_html/main-domain-directory



click thumbnail for larger image




Then click on the "Publishing" tab and make the following changes:
"Changed Pages Only" - unless you're trying to publish your entire site for some reason.
"Changes" - I use "Determine changes by comparing source and destination"
Step 6: When you click "OK", you will get a window to enter your username and password. Be sure to type them EXACTLY as they were given to you - passwords are CAse SeNsiTiVe.

BlueHost Users - Enter your FTP account information. NOTE: If you are not using the default ftp account information, it may include @your-domain.com as part of the username.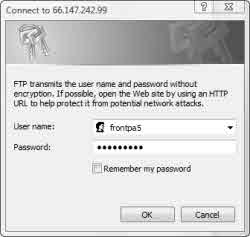 Step 7: You will see your website (on your computer) in the left window.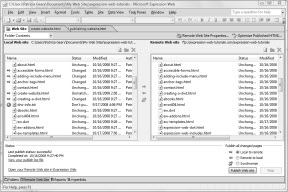 Click thumbnail to view larger image.
Depending on what you are trying to do:
There are three arrows between the windows. If you want to move just a file or two, you can highlight it, then click the arrow to copy just that file or files.
"Local to Remote" is used most often. It publishes everything that has changed from your computer to your server.
"Remote to Local" is used if you happen to lose your site on your computer or damage the files, you could use this to download the site or a file from server to your own computer
"Synchronize" - compares the two sites and moves the data back and forth until they match. Use this with caution.
There are three option arrows also located in the lower right corner and apply to the entire website. If you wanted to just publish the entire site, choose one of those in the corner and click on "Publish web site"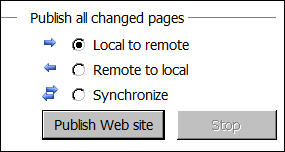 If you use the "Publish web site" button, when complete you will get a message that your file is finished uploading.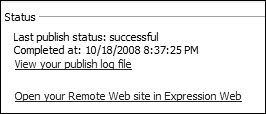 The next time you publish your site, this process will compare the server site with what is on your computer. If there are files on the remote server that you've deleted from the web on your computer, a message box may pop up asking you if you want to delete them. If you are sure they are no longer needed, answer OK. If not, do some checking. NOTE: Expression Web 1.0 will NOT remember you username or password when publishing via ftp so you will have to enter it each time. This has been corrected in EW 2.0.
If you have problems publishing, check the following:
Did you type your UserID and password correctly? Remember it's caSE seNSitiVE, so must be exactly what you were given by your host.
Did you type the ftp or http address correctly?
If you have a Firewall installed, did you give Expression Web the permissions it needs to publish?
Spaces in file names MAY cause problems in uploading files. It is best NOT to use them. Use a hyphen or underscore to separate the words publishing-website.html or publishing_website.html NOT publishing website.html.
NOTE: If you received the following error when trying to publish: "Could not find a Web server at 'expression-web-tutorials.com' on port 21. Please check to make sure that the web server name is valid and your proxy settings are set correctly. If you are sure that everything is correct, the Web server may be temporarily out of service." See by-expression.com for a possible solution.
Switching the FTP Mode
To change from the default passive FTP to active FTP (or the other way around):

Start Internet Explorer.
On the Tools menu, click Internet Options, click the Advanced tab, and then select or clear the Use Passive FTP (for firewall and DSL modem compatibility checkbox to desired setting.

Port 21 error
In most cases you can resolve the FTP Port 21 error by changing the FTP mode from active to passive or passive to active, whatever the existing setting is. Another common cause is when there is a software firewall that blocks individal programs such as the Vista firewall or third party firewalls (Zone Alarm, Norton Internet Security, ...) installed with XP.
Publishing with Expression Web 4.0