Expression Web Service Pack 1 (SP1)
NOTE: If you have downloaded the free version of Expression Web, it is NOT necessary to install SP1.
Expression Web 4 Service Packs apply significant fixes and improvements to publishing, SuperPreview, file management, extensibility, and other areas of the programs.
Screenshots will differ depending on your Operating System, browser you are using, and version of Internet Explorer These were taken on a system running Win7 and IE9 and Expression Studio Ultimate installed.
Download and Installation
Download Microsoft Expression Web Service Pack 1 (SP1) and save it to your computer if you are using any browser other than Internet Explorer. If you are using Internet Explorer click Download, then click Run.
If you saved the file (Web4SP1_en.exe) to your computer, remember where you saved it. Double click that file to start installation.

Click Yes to the UAC (User Account Control) dialog box if asked.
Click Yes for accepting the license agreement
Make sure EW4 SP1 is ticked for installation > Click Install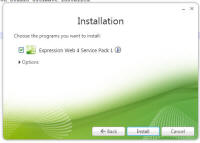 Once the installation is completed you will see a Thank You screen. Ignore the Register Your Product notification.
Issues that are resolved in Expression Web 4 (SP1):
Fixed several issues to improve product stability.
PHP include statements now update when included filename is changed in Web.
PHP pages now correctly start the development server when they are previewed.
Improved Insert Silverlight video.
Improved performance of Team Foundation Source Control with large sites.
Improved UI behavior of the Publishing pane.
User-selected character encoding for a page is now correctly recognized, resolving problems with extended characters.
Linking to a bookmark at a remote URL now works correctly.
The Bookmark dialog box now displays the correct hyperlink.
CSS IntelliSense no longer reports errors for valid values.
Replacing text in table cells now functions correctly.
Improvements that are provided by Expression Web 4 (SP1):
HTML 5 - EW 4 SP1 provides support for all HTML5 tags via IntelliSense within the code editor, and as block or inline entities in the Design view. You MUST be using the HTML 5 doctype when authoring your pages. There is no preview for <canvas> or <svg> elements, and no specific IntelliSense for SVG entities.
CSS3 - EW 4 SP1 provides support for the draft CSS 3 specification. You must choose CSS 3 draft from the Schema version drop-down from the Page Editor Options dialog Authoring tab.
The IntelliSense and error-checking in the code editor is fairly complete, and supports checking multiple comma-separated property values (e.g. multiple backgrounds). This support extends to the CSSProperties pane, as well.
SP1 also provides support for selected CSS 3 properties in the New Style and Modify Style dialog boxes, including "border-radius" and "box-shadow."
Note: There is no support in the Design view for previewing CSS 3 properties.
SuperPreview Access to Pages Protected by Authentication Forms - SuperPreview now supports cookie-based logon authentication. You can click on the 'Page Interaction Mode' icon, browse to the page of interest, enter your login credentials, and view the rendered page. Because of the wide variety of different authentication methods used on the Internet, some sites may not be compatible with this feature.
PHP IntelliSense - IntelliSense now includes an expanded number of function groups that improve PHP coverage and utility.
Internet Explorer 8 and Internet Explorer 9 Beta Internet Explorer 9 beta is now supported as a local browser for both SuperPreview and the Expression Web Snapshot feature. Internet Explorer 8 is now built into SuperPreview. If you have Internet Explorer 9 beta installed, you can view page renderings in Internet Explorer 6, 7, 8, and 9 beta.
Additional updates and features:
The PHP function list has hundreds of new methods, including PHP5 functions.
The new Open as PHP option allows Expression Web to recognize PHP files even if they don't have a PHP extension. Right-click on a file in the folder list, and choose Open as PHP.
Expression Web and SuperPreview automatically check for Chrome, Safari, and Opera and add them to the list of browsers you can use to preview. NOTE: Only nine browsers are listed. If the one you want is not listed, select 'More Browsers' from the list.

JavaScript (.js) files now display IntelliSense for methods associated with the document object (for example, document.getElementById()).
When you click New in the File menu, the list of available file types now includes JavaScript.
New IntelliSense is included for extended characters—so, as soon as you type an ampersand ("&"), you'll get a list of the HTML character entities that is filtered as you continue to type.

The Copy Full Path command is now available when you right-click on a file in the folder list. This command copies the file path to the clipboard.

The Open Folder in Windows Explorer command is now available when you right-click on a file in the folder list. This command opens a Windows Explorer window.
Expression Web 4 now works substantially faster with sites stored in Team Foundation Server.