Insert Bing Map Add-in by Mike Calvo
Download this Expression Web Insert Bing Map Add-in from the Microsoft Gallery. Install it following these instructions. Once you have installed the add-in, you will find a new item on your Insert menu.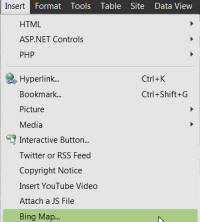 Step 1: On the Insert menu, Select Bing Map. Type in the location you want into the dialog box. Make whatever adjustments you want until the map displays as you want your viewers to see it. Click Insert.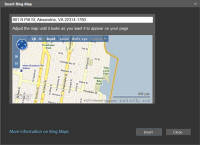 Step 2: Save your page. You will NOT see your map displayed in Design View. Preview your page in your browser and you will now see your map displayed.
NOTES:
How much detail your map shows will depend on the location you are showing.
If you are going to attach a DWT to the page, you may want to do it first as attaching the DWT after generating the map is going to wipe out any code added to the head section and you will need to reinsert it.
Make sure that you publish ALL necessary files for your map.
Example Bing Map
The map example is for a small church in a rural location: Harrisonburg Unitarian Universalist Fellowship.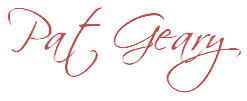 Copyright © 2010 Pat Geary of Expression Web Tutorials and Templates, All Rights Reserved
Written September 2010